The two-year history honours program provides advanced training in historical research and methodology to outstanding, highly motivated students.

Students may apply for the major and honours and joint major programs after taking 12 credits of history in the first two years, with at least 6 of these credits at the 200 level.
BA History Honours Program Overview
In the History Honours program, students shift from being consumers of History to becoming producers of historical knowledge. Students will develop skills in critical thinking and historiography, analysis of documents, oral presentation and argument, and, of course, writing.
The program consists of participation in small seminars and the preparation of a capstone thesis during the second year of the program. Students receive close mentorship from faculty members throughout their time in the program. They also become part of a close-knit intellectual and social community of student peers with whom they share seminars, dedicated study space, and an infectious enthusiasm for the study of History.
The program is designed for academically qualified and highly motivated students interested in a research-intensive program. While some students enter the program seeking to prepare for MA or PhD level work in History, others go on to a wide variety of careers in law, business, education and other fields.
Curriculum
In the history honours program, students will become producers of historical knowledge. Students enrolled in the research-intensive program must complete their course requirements as well as the following:
A significant thesis project
Training in historiography and methodology
Small tutorials and shared seminars
Mentorship by faculty members
Students enrolled in the program must demonstrate a reading knowledge of French or a foreign language appropriate to their field of interest, by passing a translation exam. The exam will ask students to translate a passage from the language of their choice. Students need to pass only one translation exam and may make more than one attempt.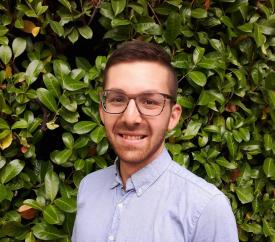 Entering the program meant extending my degree for another two years, for a total of five, but even now after I have finished my M.A., I consider those two years to have been the most transformative of my education. I became a better reader, writer and researcher because of it.
Jacob Goldowitz
PhD Student in History
Admissions
The history honours program accepts 15 students each year based on their academic achievement and promise. Please review all application requirements and instructions carefully. Applications are open.
In order to be considered for the honours program, students must have the following:
12 credits of lower level History course with an A-average standing.  Credits from ASIA 100, ASIA 101, CLST 110, CLST 111, AMNE 215 (CLST 231), AMNE 216 (CLST 232), AMNE 225 (CLST 260), GRSJ 205, and GRSJ 210 may also count toward the lower-level requirement.

Lower-level History credits transferred from other post-secondary institutions qualify students to enter the Honours Program. Advanced Placement (AP) and International Baccalaureate (IB) first-year history credits may also count toward history programs.

Faculty of Arts requirement: overall average of at least 68% in your first two years
Additionally, students will need to submit the following as part of their application:
Overall academic record
Letters of recommendation
Writing sample
Two short application statements
Students who have been admitted to the program will receive a letter from the Honours chairperson by mid-June confirming their admission.
As part of your application, interested students must submit all of the following:
Prepared PDF copies of your university transcripts. These do not need to be official transcripts.
Two letters of recommendation from professors or instructors from UBC or another institution:

One must be a member of the History Department
If you are in Arts One, you may use the program instructors instead.
Please let your referees know ahead of time and ask them to forward their letters (in PDF) directly to the Undergraduate Program Assistant, Janet Mui at janet.mui@ubc.ca by the application deadline of May 12th, 2021.
Provide your referees' email addresses.

Choose a writing sample, between 3-15 pages, that you have written for a university course (preferably a history course). Accepted file formats: doc, docx and/or pdf.
Write a short (ca. 300 word) statement explaining why you want to join the honours history program. Accepted file formats: doc, docx, and/or pdf.
Write a short (ca. 300 word) discussing the paper that you are submitting as your writing sample. You should very briefly summarize the paper and explain why you think that it is a strong piece of historical analysis. Accepted file formats: doc, docx, and/or pdf.
History Honours Thesis
All history honours students will need to complete a thesis in their final year in the program.
The thesis should be a minimum of sixty typed, double-spaced pages in length. You must also receive at least 68% on your thesis to graduate with an honours degree. The final mark will be determined by a panel of History Department Faculty members, including the advisor. The panel will evaluate the thesis and examine each student orally on the written work and subject.
For more information and to view the past work of others, visit our History Honours Thesis Archive.
Supplementary Programs
An Honours in History program can be enhanced with various other UBC programs including Arts Co-op, Go-Global, and adding International Relations to the degree.
The Arts Co-op Program has one intake period annually in September and applications are normally available by August.
We recommend that students interested in combining History Honours with Arts Co-op apply for the Co-op program in their second year and do their first Co-op term prior to the start of third year.
If you want to pursue this option, you should speak to the Honours Chair, Prof. Bradley Miller and to the Arts Co-op Student Advisor (arts.co-op.sa@ubc.ca) in order to work out a schedule for your co-op terms.
A one semester exchange can be incorporated into your History Honours Program without delaying graduation.  A two-semester exchange is also possible, but in most cases will require adding at least one semesterto your studies at UBC.
If you want to pursue this option, you should speak to the Honours chair, Prof. Bradley Miller, and contact Go-Global at go.global@ubc.ca or 604-822-0942.
Honours in History with International Relations
Another variant of History Honours accommodates students especially interested in International Relations. This requires the successful completion of 120 credits.
Students considering this honours program should consult the Honours Chair, Prof. Bradley Miller in their first or second year of undergraduate studies.
For more details, please see the course and credit requirements for the honours program detailed below.
First and Second Year
Must take a minimum of 12 credits of lower-level History courses with an average of at least 80%,
At least 6 credits must be at the 200-level
Must include either HIST 102 (6) or HIST 103 (6), or the equivalent taken in other institutions.
Must include POLI 260 (3 credits)
Must keep in mind prerequisites for any upper-level courses in affiliated fields to be taken in the upper years
Third Year
HIST 333 (6 credits): year-long course in historiography and methodology
HIST 321 (6 credits): intensive one-term honours tutorial
6 credits in History
In consultation with an advisor, 12 credits selected from courses listed in the International Relations Major program
Third or Fourth Year
An exam confirming reading knowledge of a foreign language
Fourth Year
HIST 433 (6 credits): year-long course devoted to a topic of broad interest; and to working collaboratively on skills relevant to writing the honours essay
HIST 421 (6 credits): intensive one-term honours tutorial
HIST 449 (12 credits): Honours Graduating Essay
IR seminar (3 credits)
3 additional credits in IR
An oral examination on the graduating essay
Over the course of the Program
Completion of 120 credits total
60 credits of the 120 total credits are History courses, of which 48 credits should be from courses numbered 300 or higher.
Completion of the Faculty of Arts program requirement which includes 6 credits of courses numbered 300 or higher from any department.
History Honours Resources