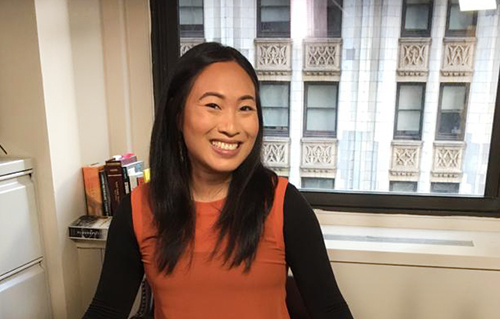 "In my opinion, public, oral, or community history would be a great lead into social work. During my undergraduate degree, I worked or interned at museums and public history projects, some tied to community development and empowerment."
Tao-Yee, a 2007 History Honours graduate, has experienced an eventful career trajectory since leaving UBC.  After working at Tourism Vancouver for a few years, she transitioned to the social service sector and worked in homeless outreach programs, refugee shelters, and income assistance programs in Vancouver and Toronto. Knowing that social work was her passion, she moved to New York City and completed a Master's Degree in Social Work at Columbia University.  New York became her home from 2011- 2019 and she worked as a social worker and program coordinator in youth programs, focusing on juvenile justice and violence prevention. She recently moved back to Vancouver and started a new position at Vancouver Coastal Health as a Mental Health Clinician (Child & Youth.)
In her alumni interview, Tao-Yee discusses how her studies in history inform her work in social work and advice for other students interested in a similar career.
Q&A
Why did you choose History as your focus in your degree at UBC?
I fell in love with History while in high school, and my first year 20th Century World History course at UBC convinced me I wanted to spend my degree focusing on history courses. I simply found History endlessly fascinating, and appreciated its lens in understanding how our current world has come about.
What were your most memorable history courses?
I entered the History Honours program in my third year, and loved First Nations history with Dr. Paige Raibmon, American historiography with Dr. Henry Yu, American cultural history with Dr. Leslie Paris, and the Philosophy of History. I've always been drawn to history classes with a transnational and comparative lens.
 How is history applied to social work?  
In general, studying history helps you develop a curious and open mind and a fluid perspective when interpreting people and social issues. In history, you also learn to understand multiple perspectives, which is invaluable as a social worker.
My Master of Social Work program did cover the history of the social work profession, which is essentially the history of the development of the social welfare state and also how various movements for social justice and equity inform social work practice.
Did your historical knowledge come up in your position in New York?
Surprisingly, a lot of what I learnt in UBC history helped me as a social worker in New York City.  For example, during my degree I wrote an American historiography paper on the history of prisons in the US. This background knowledge helped me have a deeper understanding of the history of the juvenile system which was really a lens into racial inequity in the United States.
How are you applying your history knowledge to your current position in Vancouver healthcare?
A lot of what I learnt in First Nations history about colonialism and the history of Indigenous-government relations informs my clinical practice in mental health using a framework of Indigenous cultural safety and humility.
Do you have any advice for history students interested in a career in social work?
In my opinion, public history or community history would be a great lead into social work. During my undergraduate degree, I worked or interned at museums and public history projects,  some tied to community development and empowerment.  I believe this field is developing even more at UBC as many professors are involved with community initiatives and education.
I would also take a few courses in the Social Sciences, such as sociology, anthropology, race relations, women's studies, statistics, etc. I believe social science credits are necessary when applying for Master of Social Work programs.
Above everything — follow your passion! In my mind, history and social work are both the study of individuals in society, and how individuals impact society and vice versa. An area that is definitely my passion!