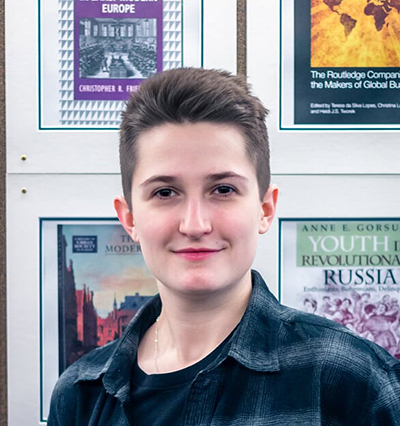 "It was one of those perfectly star-aligned opportunities: I am a history student, I am super interested in the archives, and I am part of the queer community."
That was Laura Guglielmin's sentiment as she applied for an internship to lead community engagement and outreach for the BC Gay and Lesbian archive (BCGLA), a collection that was maintained privately from 1976-2018 and recently donated to the City of Vancouver Archives.
As a history student who was familiar with the UBC archives, Laura noticed how groups like the queer community were underrepresented.  She explains, "We know there are stories in history that are elevated and others that are ignored. I was excited to work with an organization trying to change this by educating the public about a rich queer history in Vancouver."
Laura's passion for fostering awareness of the BCGLA landed her the part-time position with the Vancouver archives from May 2019 to mid-November 2019. Funding for the internship came from the Department of History's Public History Initiative and through the Vancouver archives' funding received from the National Heritage Digitization Strategy.
Working at the Vancouver Archives
"My first day was super chaotic, it was a whirlwind tour of the archives" says Laura. She absorbed as much information as she could during her first days of work, learning best practices for archival work and how to use the database.
In addition to gaining hands-on archival work experience, Laura's core responsibility was outreach and creating buzz about the BCGLA. Through various tactics like blog writing, curating content for social media, and general outreach to organizations and individuals, Laura worked to educate the public on the history of the queer community. Her work also supported the BCGLA Photo Identification Project, a pilot project aimed at crowd-sourcing information about the people and places depicted in the photos.
Currently the collection has 5,400 photos that have been digitized, while around 1,000 photos contain unidentified people and events. To help with identification, Laura compiled the unidentified photos into a slideshow that can be accessed by the public in-person as well as through an online form available on the website. She was responsible for organizing three photo identification events during East Side Pride, Vancouver Pride, and a recent event at the Sum Gallery (a queer visual art gallery in Vancouver). The most recent event at the Sum Gallery was well received by the community and even garnered media attention from Global News. From these events, several hundred photos were identified, and ongoing identifications continue online and through email.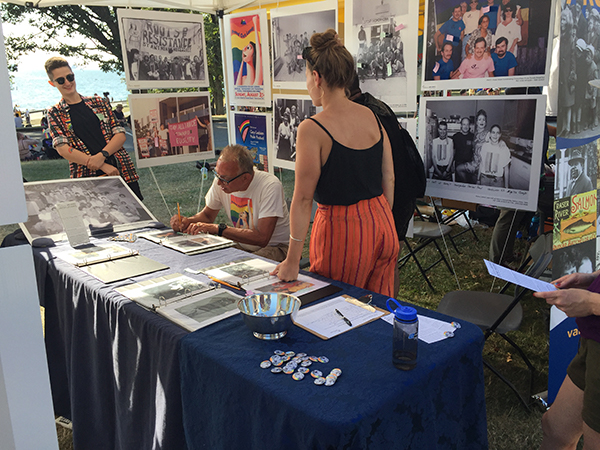 Outreach creates connection
For Laura, the most rewarding part of the internship was seeing how outreach creates connection and improves knowledge.  As she explains, "Engaging the public with the photos has been especially important for the younger generation. We tend to live in a bubble in Vancouver, thinking it is an accepting place, but it wasn't long ago that events such the Dyke March, Joe's Café Boycott or any of the gay activism rallies took place. The photos show how the older queer generation fought for the freedom of our identities."
She adds, "The collection also represents a diverse range of experiences from the LGBTQ2+ community, not just stories from a singular group. The photos tell stories from many perspectives."
Discovering a path
It was a spring day when Laura saw an email arrive in her inbox from Prof. Laura Ishiguro about a summer internship with the Vancouver Archives. The busy student made the time to apply that very same night and got the job.
Laura's internship has made the next steps in her life clearer. She is now interested in a career in archival work or public history. She explains, "I used to think academia was a bit scary and sterile, but now I realize how it can be a human experience where a big portion of your time is spent making connections with communities."
Her colleagues at the Vancouver Archives were good examples of academics who thrive on community engagement. Laura recalls a moment where a group of friends at a Pride Event found an old picture of themselves from the 1980s and how excited they were — she also noticed that one of the archivists was brought to tears.  A sign her work means something more than just a pay cheque.
For More Information:
https://www.vancouverarchives.ca/2019/07/04/bcgla-photographs-now-online/
https://vancouver.ca/news-calendar/city-completes-bc-gay-and-lesbian-archives-collection-digitization.aspx
To learn about student opportunities,
Connect with the UBC History Department: