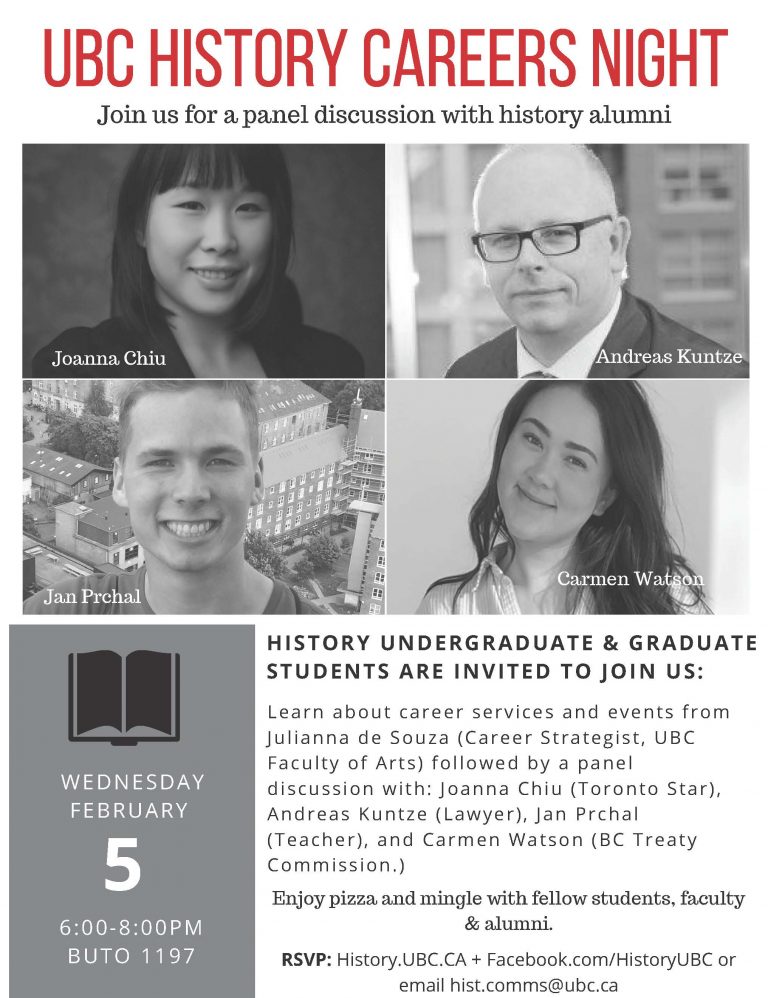 Join us for History Careers Night!
The evening will start off with a short presentation from Juliana de Souza (Career Strategist, Faculty of Arts.) Julianna will discuss resources and services at UBC to help with career preparation as well as upcoming related events. In addition, the History Student Association will host a panel of UBC History Alumni including Joanna Chiu (Toronto Star), Andreas Kuntze (Lawyer), Jan Prchal (Teacher), and Carmen Watson (BC Treaty Commission.) The panel discussion will be followed by a Q&A where students can ask their question in-person and online.
We encourage anyone interested to join us including undergraduate & graduate students, faculty, alumni and staff! Refreshments including pizza will be served.
RSVP is required for this event. Email hist.comms@ubc.ca
More information on speakers:
Joanna Chiu, Toronto Star
An experienced journalist, Joanna has centred her writing on difficult issues facing modern China. After years of working as a foreign correspondent based out of Hong Kong and Beijing for publications like Agence France-Presse, Foreign Policy and The Economist, Joanna is now a Vancouver-based journalist for the Toronto Star. She has published numerous exclusive stories related to China-China relations, including an interview with the former Canadian ambassador to China that led to his dismissal and a story revealing how pro-Beijing groups faked letters of support from Prime Minister Trudeau. Her personal passion is to amplify women's voices and strengthen the network and community of women working in fields relating to China. She maintains a database of female China experts. An initiative that she founded, the NüVoices collective, also works towards this goal of connecting women China watchers. Joanna graduated from UBC with a History Honours degree in 2010.
Find our interview with Joanna here.
Andreas Kuntze, Lawyer
Andreas Kuntze was born in Prince Rupert, BC and grew up in what was essentially a First Nations village at that time, in nearby Port Edward, BC.  In what was to become a pivotal moment in his life, he spent one year of high school in Germany.  While in Europe he travelled on extended vacations throughout Germany, Italy, the Netherlands and Switzerland.  He then returned home and graduated from high school in Prince Rupert.  He came out of the primordial forest at the edge of the sea to attend UBC, where he graduated with a Bachelor's Degree in History in 1993.
After more travel, he returned to Vancouver to find a job.  While his first inclination was to find work with the Provincial Government, he found a job that he could not let go of at a local classical record shop. Andreas applied and was accepted to Dalhousie Law School in 1998 and graduated with an LL.B. from that school in 2001.  Andreas returned to Vancouver once again and eventually found work as a researcher with Indigenous and Northern Affairs Canada (INAC), in their Indian Residential Schools Resolution department.
In 2009, Andreas accepted an articling position with the law firm Chouinard and Company, in Richmond, BC, where he has been ever since.  In 2010 he was called to the bar in British Columbia.  Andreas has appeared in the British Columbia Provincial Court, the B.C. Supreme Court and the B.C. Court of Appeal, as well as the Federal Court of Canada. He is now the managing lawyer at Chouinard and Company.
Andreas enjoys spending time with his wife, whom he met at UBC, and their 2 children.  He is also very involved in martial arts.  He is currently the President of Karate BC, and volunteers his time as a World Karate Federation Judge for Canada.
Find Andreas's Q&A with the Faculty of Arts, here.
Jan Prchal, Teacher
Find our Go Global Story with Jan here.
Carmen Watson, BC Treaty Commission
Carmen joined the BC Treaty Commission as a Process Advisor in June 2019. She has a BA (Hons.) in History and International Relations from UBC, focusing on questions of Indigenous sovereignty and international decolonization. Her senior thesis explored the relationship between Indigenous women, children and the nation. Some past research projects of hers include: the emergence of Chinese-Canadian identities during the British Columbia Goldrush, Indigenous nationhood against the backdrop of the Quebecois separatist movement, and standards of international diplomacy in nation-to-nation relationships between federal and Indigenous governments. She has lived in BC, Alberta, Saskatchewan, Ontario, Quebec and the Northwest Territories, but now calls Vancouver home.
Find our Honours Research profile on Carmen here.