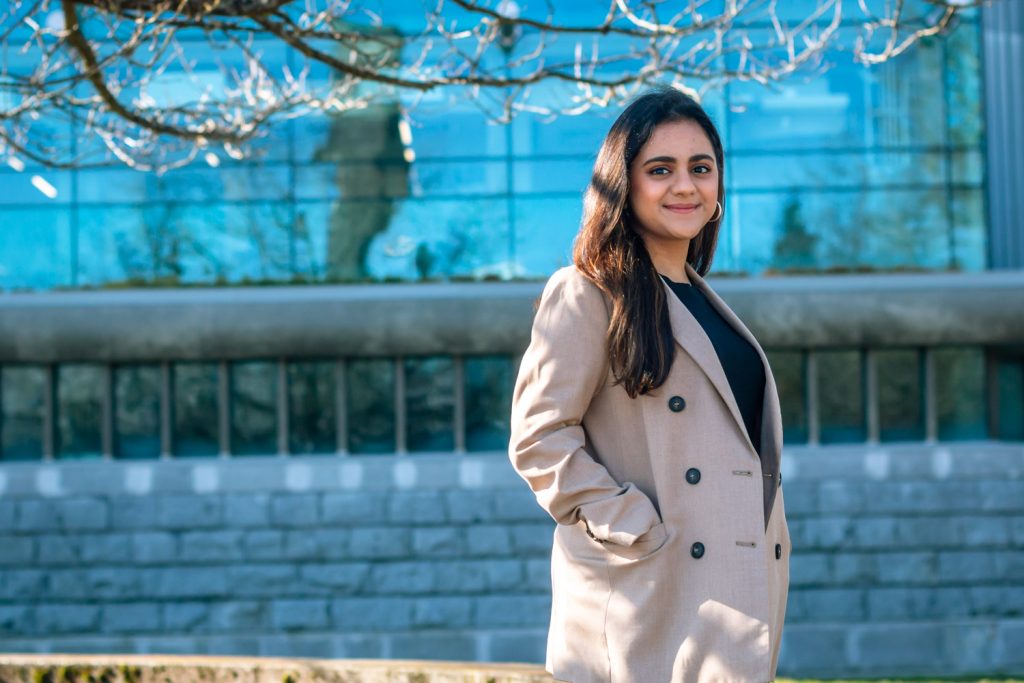 Suyesha Dutta is a student leader. She prides herself in getting involved in the student community at UBC which is evident by her position as the 2019-2020 President of the History Student Association (HSA.) She also took on a role representing the Arts Undergraduate Society in the Alma Mater Society (Student Union) of UBC, and was a House President for the Place Vanier Residence Association. She describes herself as competitive and a go-getter type of student, thus, her desire to co-lead a Student Directed Seminar is not surprising.
Her new adventure as a co-facilitator for the course Asia 476Z/History 390A "Identity and Dissent in Post-Independence India", however, has taught her a brand new skill: let go and let others lead. She explains, "Your purpose as a co-facilitator is to encourage participation and listen in a meaningful and respectful way. Allowing collaboration and creating space for other students to take charge has been an amazing experience."
Suyesha's role as a co-facilitator for her Student Directed Seminar is a work experience she is proud of and one she hopes to apply to a career in teaching at the university level someday.  Her story offers some insight for other students considering taking or facilitating a SDS.
Applying for a Student Directed Seminar
In second year, Suyesha came across an advertisement on The University of British Columbia's Facebook page encouraging students to apply to run their own seminars and receive credit for a regular course. The opportunity stuck in her mind as she entered her third year at UBC and remained hopeful in developing a potential course.
By fourth year, Suyesha felt ready to apply for this opportunity after connecting with fellow History Major, Morgan Khan. The two of them had interest and connections to India though differing areas of expertise —Morgan studies the Mughal history of India and Suyesha focuses on the political history of Modern India. The two students combined their interests and began constructing their syllabus and proposal together.
They worked together to create a syllabus that spoke to their academic strengths.  Suyesha focused on peer reviewed articles that concentrated on socio-political issues in India where as Morgan looked at social, oral, and art/media based resources that dealt with societal, economic and cultural realms. They brought their background and strengths to the table, and created a rich and engaging syllabus that takes an in-depth look at India after 1945, when India became independent, and the land was partitioned into two separate countries — India and Pakistan, and later Bangladesh. Their proposal was submitted in February 2019 and they received approval for their course by July 2019.
The Classroom
Suyesha and Morgan's course Asia 476Z/History 390A "Identity and Dissent in Post-Independence India" began in January 2020, with seminars on Tuesdays and Thursdays. Their intent behind the course is to address how different identities are manifested in India and for students to understand the historical trajectory of "dissent" in Modern India. Although historical materials are common in the course, most materials have been selected from a wide range of disciplines including everything from anthropology to economics. The course work includes academic readings, news articles, movies, and more.
The class is built on collaboration and each student is required to act as the facilitator at least twice during the term. Suyesha kicked off the beginning of the course by facilitating the first two classes and then passed the baton on to her fellow students. All the students are encouraged to speak up during the open discussions and these discussions continue on the online message boards on Canvas.
Another key component to a SDS is the evaluation through peer grading. Each student is required to give written feedback on each facilitator throughout the term. Suyesha, at the beginning of the term, made it clear to her fellow students that this feedback should be constructive and not unkind. Suyesha and Morgan aim to keep the class as positive and supportive as possible.
Learning through Collaboration
For Suyesha, the collaborative format of the class has been the greatest reward and working together as a "team" has created a deep level of learning. She believes her listening skills have advanced through the process also, since much of the class is devoted to allowing room for each student to voice their thoughts and opinions.
She describes the small group of 14 students as diverse and that everyone brings something unique to the table. Students come from several different departments including History, Asian Studies, Anthropology and more.  Working with students across disciplines has allowed Suyesha to see the materials from the class through all different lenses. Suyesha explains, "When I review materials I see things through a political lens. My classmates help fill in the gaps for me since they see the world from different perspectives — some look at materials from a sociological, cultural or economic lens."
Many students are close to the materials in the class and are open to sharing their personal experiences. Suyesha says that everyone in the class is very supportive and compassionate towards each other and especially when someone reveals something personal. This has been a common theme throughout the course.
Advice for other students
For students considering taking a SDS, Suyesha says to be prepared to participate. Pushing yourself out of your comfort zone will be required for students who prefer to stay quieter in class.  For those students who love to talk, remember to let others participate and practice good listening skills. Collaboration will be the greatest reward for students taking a SDS.
For highly motivated students considering applying to facilitate a SDS, Suyesha recommends asking many questions — especially about the organization and administrative side of the course. Suyesha says there have been several administrative tasks required of them including finding out about consent forms for multimedia projects.  Be sure to connect with your faculty sponsor about exactly what goes into facilitating a course — things such as: peer grading, software for the course, and time commitments.
For more information
Student Directed Seminars at UBC
https://students.ubc.ca/enrolment/courses/student-directed-seminars
To contact Suyesha and Morgan about their course, feel free to email: identitydissent@gmail.com