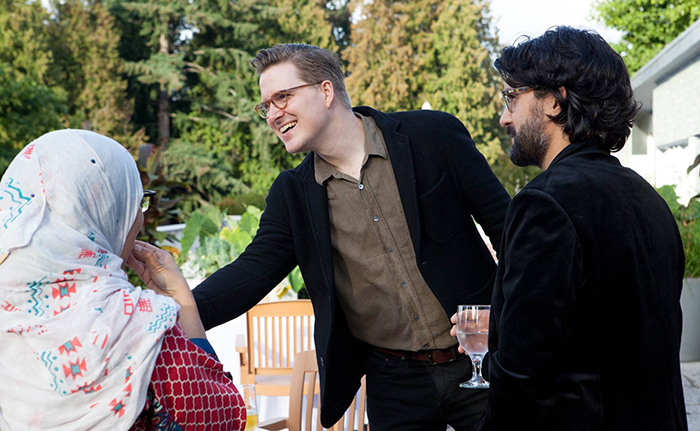 Sebastian Prange's book, "Monsoon Islam: Trade and Faith on the Medieval Malabar Coast" (Cambridge Univ. Press), was recently awarded the American Historical Association's John F. Richards Prize recognizing the most distinguished work of scholarship on South Asian history in 2018.
"Monsoon Islam" was also recently awarded the AHA's Pacific Coast Branch Book Award recognizing the outstanding first monograph on any historical subject, period, and region by a scholar residing in the 22 western states of the US as well as the four westernmost Canadian provinces.
In this short Q&A, Sebastian tells us more about his book, and why it is important to study Islamic history.
1. What motivated you to write "Monsoon Islam," why was it important for you to tell this part of history?
During the medieval period, Islam expanded rapidly across Asia. In fact, today more Muslims live in South and Southeast Asia than anywhere else in the world. In many of those regions, Islam arrived through the agency of Muslim merchants who settled in port cities all along the Indian Ocean coast to engage in trade and make money. Through their interaction with local societies across maritime Asia, these ordinary merchants became key conduits for the transmission of Islam. The book shows that the ways in which Islam was understood and practiced in those places became transformed through these exchanges and interactions. It is this trajectory of Islamic history – which I call "Monsoon Islam" – that the book seeks to trace and describe.
2. What was the most exciting part about winning the AHA awards?
My book intersects with (or some may say, trespasses on) several fields of scholarship, such as economic history, religious history, political history, and even architectural history. It also crosses across various geographic fields that are often treated as distinct. So it was always a question of how – and by whom – "Monsoon Islam" would be received. To find it recognized by these awards feels like an enormous vindication of my approach. But I was especially thrilled that the book has been recognized by the major book prize in South Asian history, because that is the field I was originally trained in and to which I had always hoped to make a contribution.
3. Can students learn more about this narrative in any of your classes? Why would you encourage more students to study the history of the Muslim world?
My course on "Islamic World History" (HIST 280) surveys the history of the Muslim world from the time of the prophet Muhammad to our present day. I'm very much committed to taking a global approach throughout, by always trying to situate specific events within their wider contexts and by focusing especially on the development of Muslim societies and communities beyond the Middle East. As "Monsoon Islam" highlights, and as the course shows on a much broader canvas, Islam has been a global faith for a very long time and simply cannot be reduced to a purely Arabian identity or any single narrative.
For more information:
https://www.cambridge.org/ca/academic/subjects/history/south-asian-history/monsoon-islam-trade-and-faith-medieval-malabar-coast?format=PB