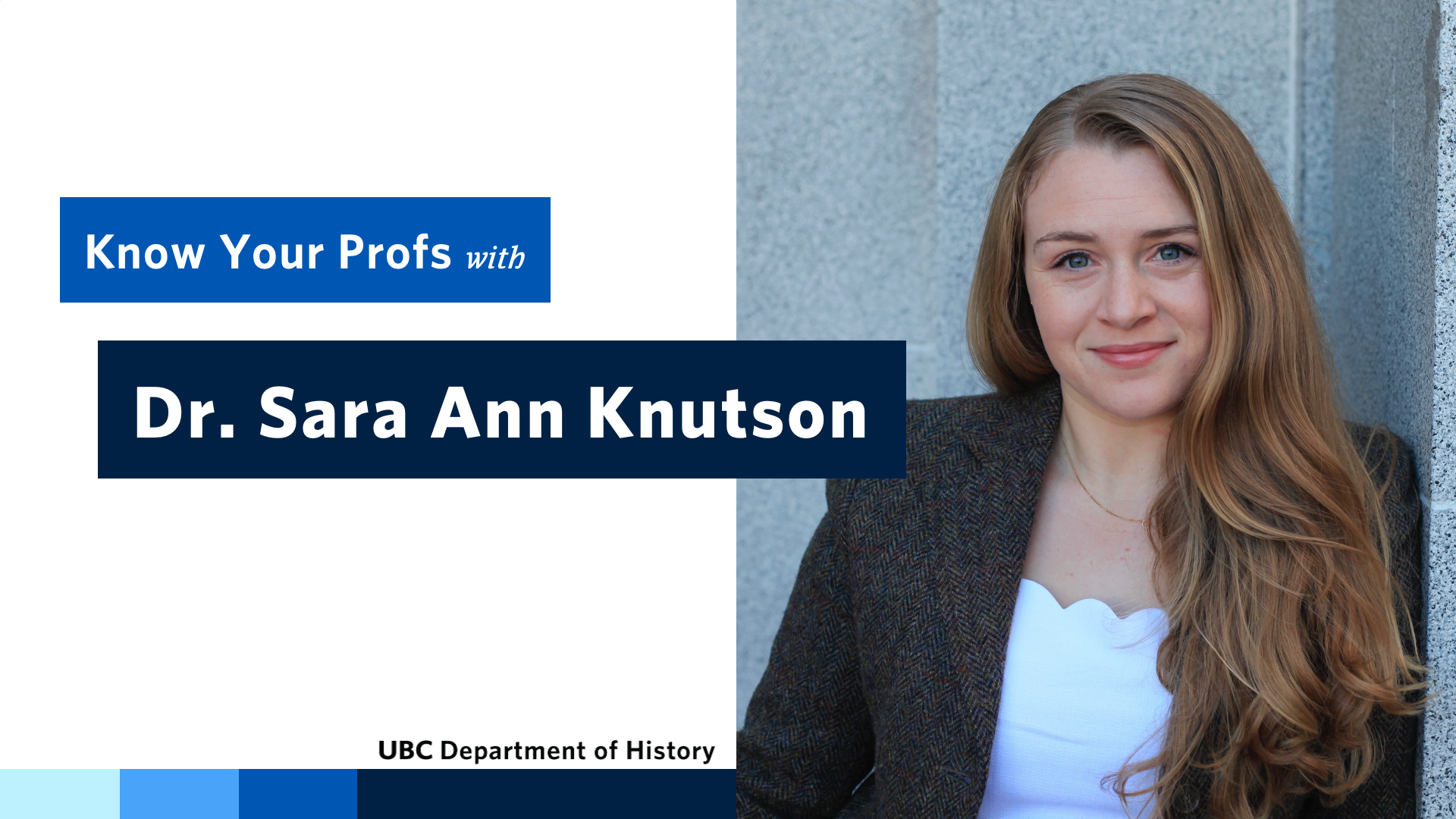 The Know Your Profs series is meant to help students learn what their professors are about in their own words. Dr. Sara Ann Knutson (she/her) is a historian and archaeologist who specializes in premodern global networks and the social, cultural, and economic relationships between the Islamic World and Northern Eurasia.
 In this instalment, Dr. Knutson shares why studying History is a way to embrace human diversity and a way to remind us the past is not a static place. Read on to learn more about where History can take you, and for a kind note on imposter syndrome.  
---
What are your areas of specialization?
My research broadly focuses on the history and archaeology of premodern global networks. More specifically, I examine the social, cultural, and economic relationships between the Islamic World and Northern Eurasia. As part of this work, I examine how the premodern past influences us in the present day through the construction of cultural heritage in the Middle East and North Africa (MENA) region and the practices of collecting in museums and archives.
When did you realize academia was for you?
Academia was not intuitive for me as a first-generation student. I loved studying History in school because it gave me an opportunity to connect what I was learning in Math, Science, and Languages in fascinating ways. I later discovered as an undergraduate that teaching, writing, research, and sharing knowledge are practices that give me joy. That said, I try to push back against the idea of Academia as something that is "for" some people and not for others. Knowledge production happens everywhere, not just in Academia. In my practice, I honour that some of the best ideas and knowledge are created by people who Academia traditionally fails to recognize. 
What does it mean to you to study History?
The past has continually taught me that people have varied ways of doing things and that there are multiple ways of being human. Studying History therefore enables me to embrace human diversity and to have important, illuminating conversations with people around the world about why the past continues to matter in the present and in the future.
Which course(s) do you teach?
In the upcoming academic year, I will be teaching History 101: Global History to 1500 CE, History 490: the Abbasids: History, Heritage, and Memory, History 353: Trade and exchange in the premodern Islamic World, and History 104: Global Scandinavia.
What can students expect from your courses?
Students should expect to challenge or unlearn what they think they know about the past, the world, and the practice of doing History. A common theme in my courses is the decentering of Europe in our study of the premodern past, which allows for more diverse voices who have traditionally been overlooked or dismissed in Academia. All knowledge is invariably connected: whether you are a History major, minor, or simply taking a History class for a requirement or for fun, be prepared to bring your own unique perspective to class. History is a great discipline for embracing the contributions of other fields of study.
What do you like about teaching UBC students?
I am thrilled to have the opportunity to teach UBC students, who have extraordinary curiosity and are going to push the boundaries of what it means to study the past. I am looking forward the most to our discussions, in which students can grow comfortable thinking critically and learning from other people's unique perspectives and experiences and can honour their own. I learn from students just as much as they learn from me.
What are your favourite questions students have asked about history?
A student once asked me, "isn't the study of the recent past just the same as journalism?" I like this question because it reveals an assumption that, as historians, we are just "reporting" historical facts. What I have learned to communicate to students is that history is an interpretative practice; our understandings about the past change over time because we continue to find new, innovative ways of analyzing the same (or new!) sources with improved perspectives, arguments, and/ or methods. The past is not a static place!
"But what can I do with a History degree?" My response: many things! History is important not just for the "facts" about the past that you learn in class, but especially because the practice of History offers invaluable skills that translate in a variety of careers. Therefore, a fundamental part of my practice as a professor is to ensure that my students are aware of important skills that they are developing in my classes.
What advice would you give to your undergraduate self?
Embrace creative thinking: reject the easy answers, identify widely-held assumptions, and see if you can challenge those assumptions in creative ways. Reflect on what gives you joy in your undergraduate studies and know what makes you unique. Develop a transdisciplinary and diverse community of friends and classmates who will give you new perspectives on the world. Find good mentors who have a career like the one you would like to have one day, and learn about how they got to where they are now. And finally, remember that everyone else has imposter syndrome too!
If you weren't a professor, what would you do with your life? What do you enjoy doing in your free time?
​​I suspect I would be a psychologist—I almost double majored in History and Psychology in undergrad. I would also not say no to becoming the host of my own travel show.
In my free time, I love traveling, eating food, learning languages, and watching ice hockey! I also enjoy running and training to de-stress after a long day. Someday soon, I plan to complete a half ironman race.