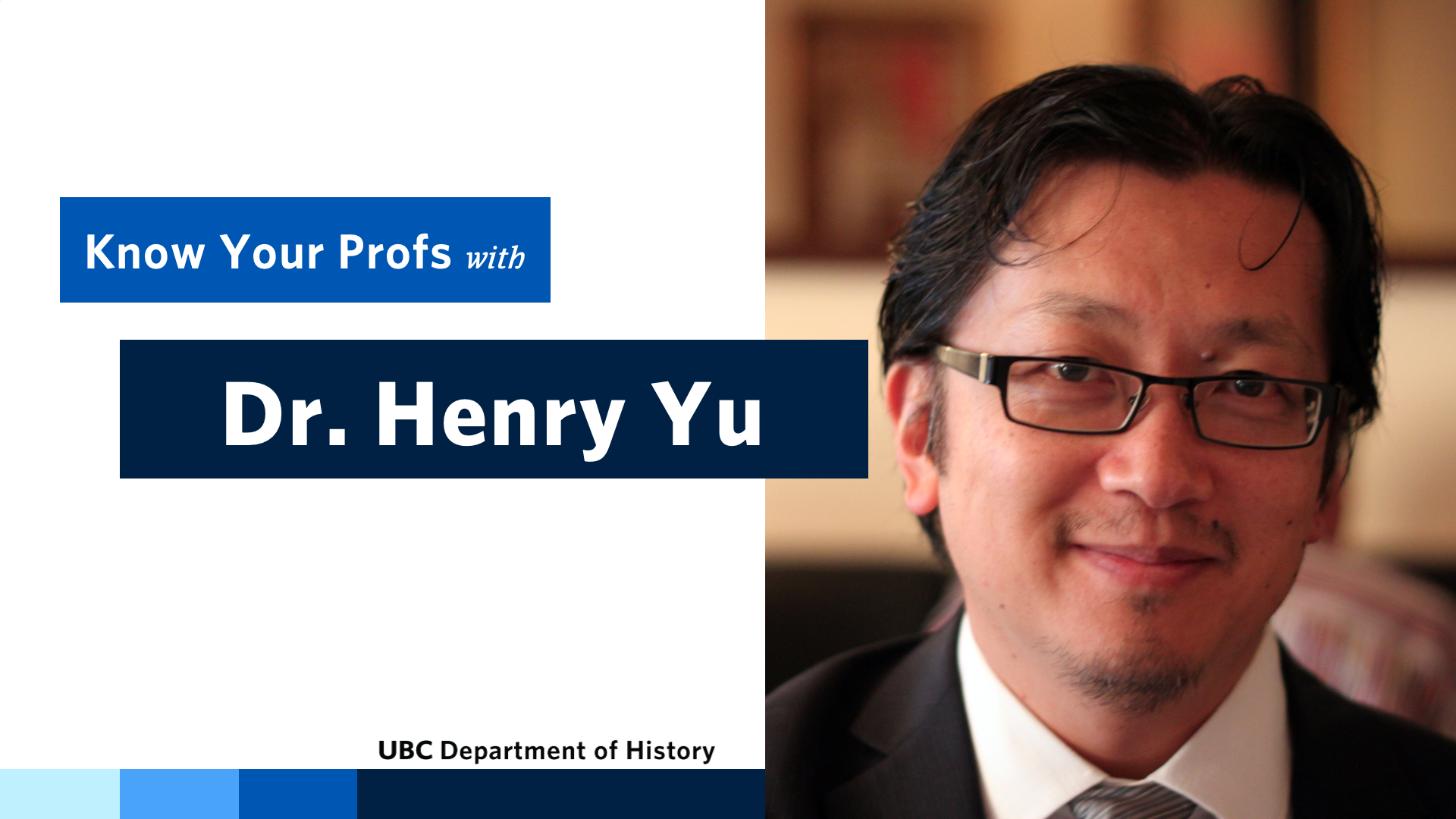 The Know Your Profs series is meant to help students learn what their professors are about in their own words. In this instalment, Dr. Henry Yu reminds us that each of us has a connection to history, whether we choose to acknowledge it or not. He also points out that learning to interpret our relationships to the past holds the key to untangling our individual and collective futures.
---
What are your areas of specialization?
I specialize in migration, the transpacific, Asian Canadian studies, and settler colonialism.
How did you find your way to academia?
On the way to law school, I accidentally became an early modern French history PhD student. Then I found a section in the library that focused on Asian migrations to the U.S. and Canada, and became a scholar and community-engaged researcher and public historian focused on that area.
What does it mean to you to study History?
It's a calling to help others realize that it's not a choice to be interested in history or not – we are all the products of the past and our understanding of this process. Each of us has a say in interpreting the manner in which we have been shaped by our history, and how that shapes both our individual and collective future. 
Which course(s) do you teach?
History 482 The History of Chinese Migration: This course focuses on the history of Chinese migrations from the founding of the state to the present day. Migration is used as a focus through which to examine some key themes of Chinese history; ethnicity, boundary creation, economic growth and international relations.
History 483 Asian Migrant Communities in North America: This course examines both the historical and contemporary contexts for migration from Asia to Canada and the Americas.
History 485 Asian Migrant Communities in Vancouver: This course examines the history of Asian migration to Vancouver and British Columbia, focusing on the development of local communities. It provides a background in historical research methods that will enable the students to conduct research on the history of these communities.
ACAM 390A The Heritage of Chinese Migration: This unique field study in Vancouver, Hong Kong, Kaiping, and Southeast Asia allows students to explore multi-disciplinary perspectives on the histories, cultures, and geographies of Cantonese migration. 
What do students need to know before taking your courses?
Students can expect to be given plenty of rope to be empowered in their own learning, to be responsible for building from who they are, and to utilize the skills and interests they bring to create new knowledge. Students should also expect the possibility that while this metaphorical rope can be woven into a beautiful design, it can also tie you into knots.
Before taking my courses, I want students to ask themselves this question: Would you be afraid of being told that I won't tell you exactly what to do in order to get a high grade?
What do you like about teaching UBC students?
Each student comes with such unpredictable trajectories that have shaped their interests, abilities, talents, and goals. I'm constantly surprised by the complex nature of their paths, and how so many have acquired knowledges, languages, and ways of living and being that are layered and multidimensional. Sometimes students struggle with integrating these complexities in a way that feels coherent to themselves, and I like helping them know that they are not alone.
What are your favourite questions students have asked about history?
"Why are we doing this?"
What would you say to your undergraduate self?
"Why are you doing this?"
Why are you doing this?
Because it's important to do, and I enjoy doing it.