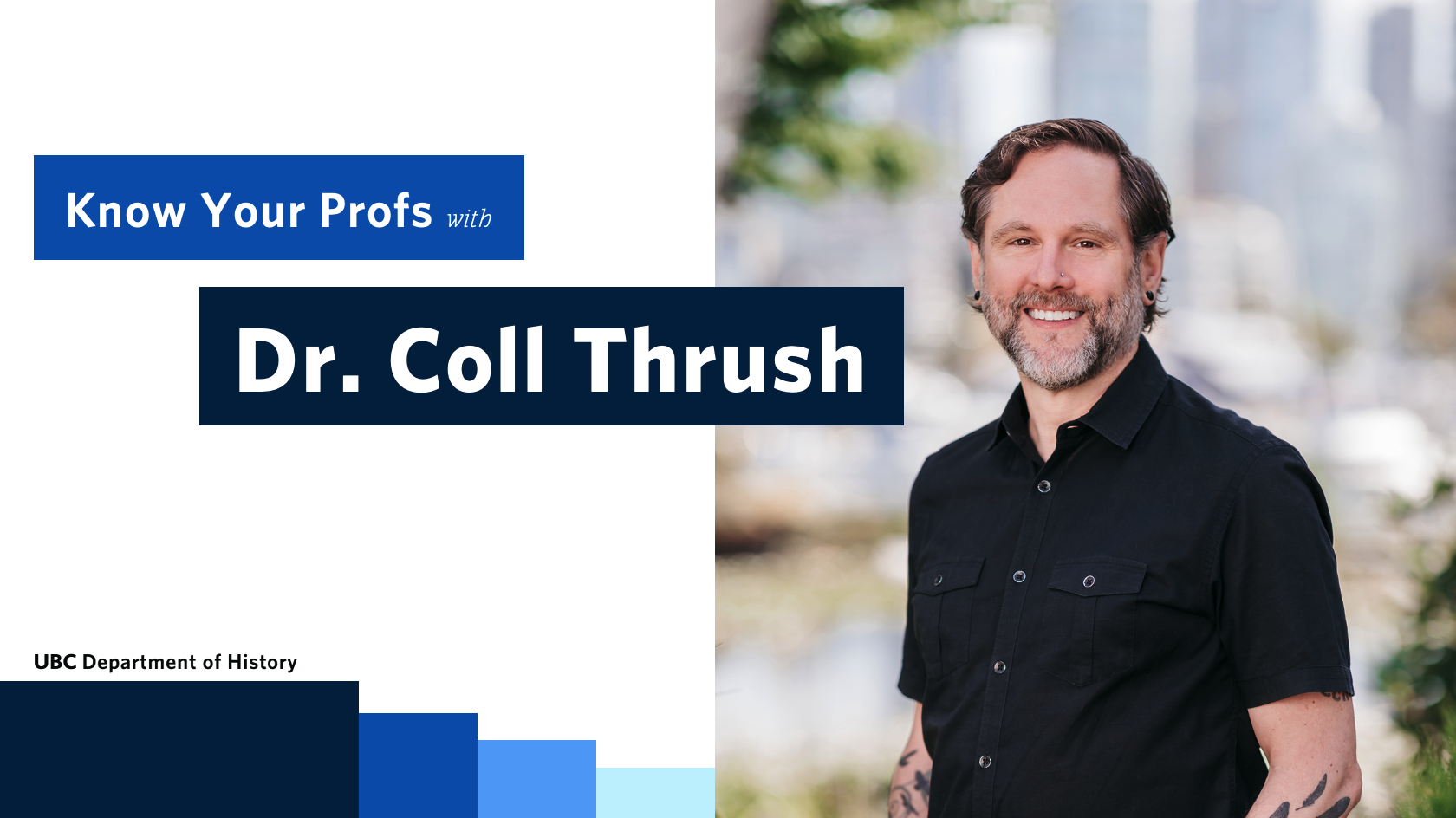 Professors can be a bit enigmatic. Who are they outside of the classroom? Why do they teach what they teach? And, more importantly, what do you need to know before taking their classes?
The Know Your Profs series is meant to help students get to know their professors in their own words. This series is for you if you're thinking of taking a course taught by a professor you don't know very well, if you're an Honours student or grad student looking for a thesis supervisor, or if you simply want to know more about your favourite professors in the Department of History.
Read on to find out what Professor Coll Thrush likes about teaching at UBC, what you can expect in his classrooms, and why it's never too late to take a History course during your undergraduate career.
---
What is your area of specialization, and when did you know academia was for you?
I specialize in Indigenous-settler relations, the Northwest Coast, environmental history and histories of place.
There's not much of a history of higher education in my family, but I've wanted to be a professor since I was around nine. I'm not quite sure where I got the idea. Back then, though, I wanted to be a professor of ornithology!
What does it mean for you to study history?
For me, to study history is to see ourselves within larger structures and patterns, and to give meaning to our own lives and the lives of others. It is also a way to build empathy toward people we'll never really know, and to engage with the places where we find ourselves.
What do you like about teaching UBC students?
I find UBC students to be generally really well-prepared for high-level thinking about the past, and to have a broad commitment to questions of justice. My job is to create spaces in which those impulses can be further honed and manifested both inside and outside the classroom.
Which course(s) do you teach? Please also provide a short description of each course.
Two of my primary undergraduate courses are HIST 340 and HIST 464. 
In HIST 340: The American West, we look at American frontier mythology, its consequences, and different ways of seeing the space called the "American West" from different angles based on Indigeneity, race, gender, class, and other categories of lived experience. 
In HIST 464: First Contacts in the Pacific, we pull apart those iconic moments that have drawn so much attention, such as George Vancouver and his crew meeting Coast Salish leaders off of Point Grey in 1792, to think about their legacies and the different ways they can be interpreted, most notably by Indigenous thinkers and creators.
What can students expect from your classes?
The histories I teach are far from over, and we all live with them here in this place whether we like it or not. My students can expect a commitment to relevance and a space for creative approaches to the past and present. 
I want students to know that in my classroom, we can do more than "just" intellectual work. It's a space where we can approach the subjects at hand with our full selves.
What are your favourite questions students have asked you about history?
I think the two most basic questions we can ask about the past are, "What was it like?", and "What were they thinking?" The best questions from students often start from these places of empathy.
What advice would you give your first-year and graduating undergrad self?
Well, I didn't take any history courses until my final year, so I would probably advise myself to take a somewhat different path. And to my graduating self, I would encourage him not to listen to nay-sayers that minimize the value of a humanities degree.
If you weren't a professor, what would you do with your life?
I would be a musician.
---
Learn more about Coll's research and publications in his faculty profile.