"I envision … teaching, learning, and activism as central to my role as a scholar and professor of Black history."
Dr. Crystal Webster will be joining the UBC History Department as Assistant Professor of African American History this July. With a PhD from the W.E.B Du Bois Department of African American Studies at University of Massachusetts Amherst, her research focuses on the history of nineteenth-century African American women and youth. She was previously a long-term Mellon dissertation fellow at the Library Company of Philadelphia, and Assistant Professor of African American history at the University of Texas San Antonio.
We spoke to her about her research, her forthcoming book, the UBC courses she'll be teaching, and her outlook as a historian.
Tell me about your field of study. What is your area of expertise?
I am a scholar of African American history with specializations in Black children and women in the nineteenth century. My PhD from the W.E.B. Du Bois Department at the University of Massachusetts Amherst is in African American studies, so in addition to historical analysis I am also trained interdisciplinarily using various frameworks including Black studies, cultural studies, Black feminist theory, and childhood studies.
What draws you to this field? What are major influences in your life that motivated you to take on this research?
I study Black history because I seek to challenge racism and white supremacy through teaching, learning, and activism. I was fortunate to learn much of this history while I was an undergraduate student at Oberlin College, where I majored in Africana studies. At Oberlin, I first learned how historical forces of racism have impacted myself and my family. I am also influenced by my Black elementary students while I was a schoolteacher in Mississippi, and I grew to value children's voices as significant actors for social change. I learned much from the historical archive and records of the history of African Americans, and I am still learning from undergraduate and graduate students even as I teach. This process of teaching and learning empowers me to take a more activist role against the struggles from which my community continues to suffer, due to a history of systemic racism. I envision this thread of teaching, learning, and activism as central to my role as a scholar and professor of Black history.
Tell me about your forthcoming book, Beyond the Boundaries of Childhood: African American Children in the Antebellum North. Why is studying the intersecting discourses of race and childhood in this period important?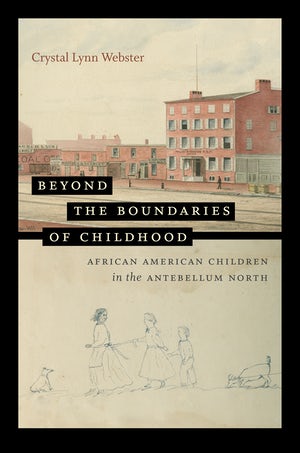 In my book I am primarily interested in exploring boundaries between slavery and freedom, and childhood and adulthood. In the nineteenth century, northern states in the U.S. were the first to begin emancipating African Americans. However, many Black children were forced to remain enslaved throughout their entire childhoods and into adulthood as part of the process of gradual emancipation—they had to age out of slavery. At the same time, ideas of childhood evolved to modern views of children that treated them as precious and innocent, but these constructions excluded Black children. Black children's lives in this period and in the U.S. North reveal how intersecting historical forces and phenomena of race and childhood worked to exploit and dehumanize Black children in understudied ways.
What can students expect from your upcoming course(s)? Why should students take your course(s)?
In Winter Term One I will be teaching African American history 1450 to 1850. I envision this course as a way in which students can become familiar with the history of race and slavery in the U.S. as a history that is not distinct from general U.S. history. Instead, I seek to show how the history of African Americans is integral to understanding the development of the United States, from its founding to the Civil War.
Generally, I will be teaching courses related to African Americans, women, and children in the United States—African American history, history of childhood and youth, and crime and imprisonment. I view all of these subjects and themes as interconnected and part of a transnational and diasporic story of capitalism, colonialism, and empire. In this way, my courses will enhance critical understanding of many different subject areas in history concerning race, class, and gender.
You've been published in major news outlets like the Washington Post, and are active on Twitter and Instagram. How do you view news/social media as a tool for public engagement?
Public engagement and activism are central to my work as a scholar and intellectual. It has been a natural and important extension of my scholarship and service. As I increasingly consider the broader picture and impacts of my work, I continually see the roots and legacies of contemporary issues, particularly those facing Black children. Fashioning my research for a public audience has enhanced my own scholarship and critical eye. Historians have always engaged the public—whether through museums and archives, news outlets, or in their work with teachers. As we move towards a more social media-driven world, particularly in the wake of the pandemic, I believe it will be essential for historians to translate this public engagement work to an even broader, and perhaps more accessible, audience through social media.
Find Crystal Webster's forthcoming book Beyond the Boundaries of Childhood: African American Children in the Antebellum North here.