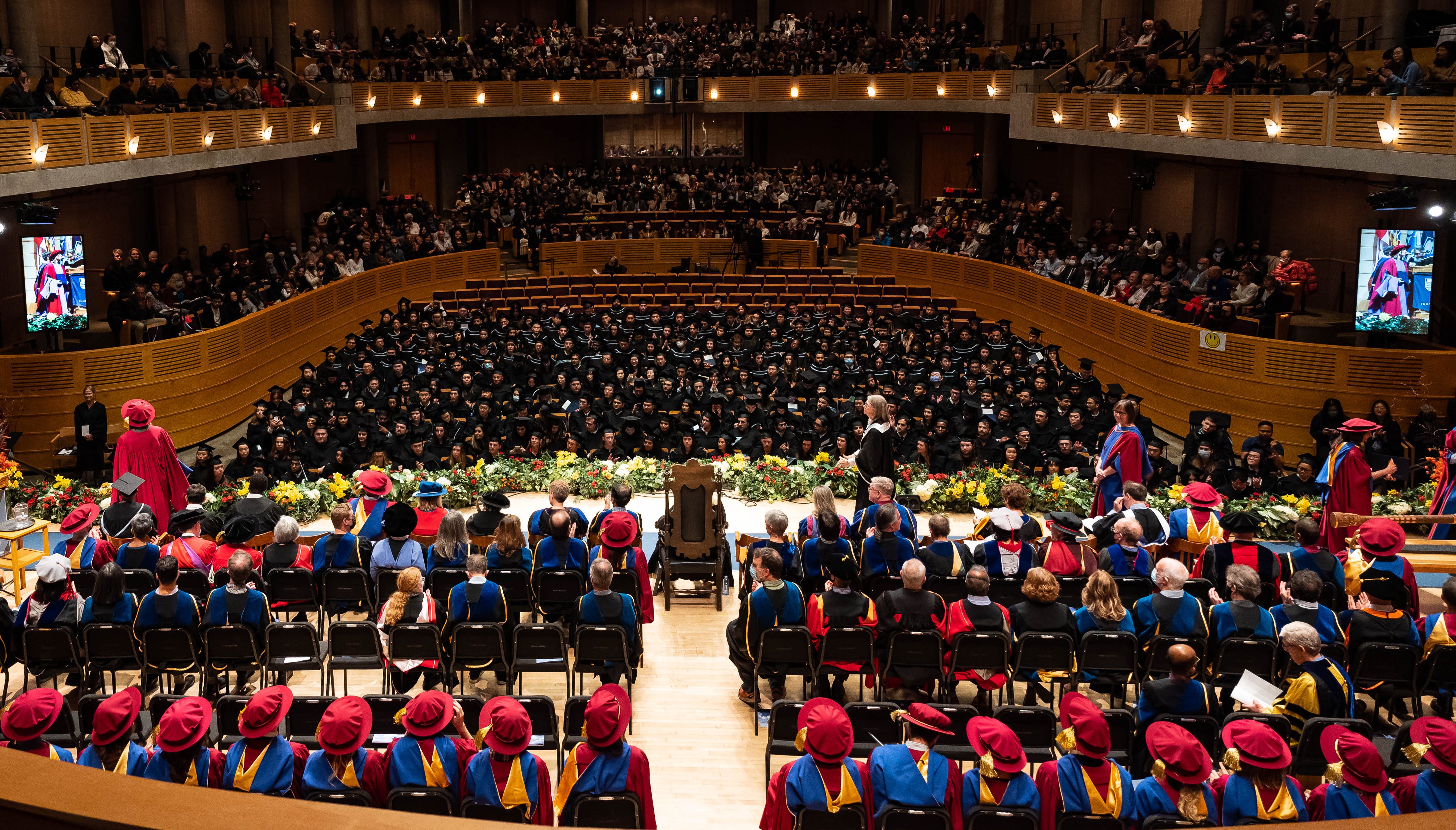 ---
Message from the Head
Many congratulations, UBC History Class of 2023! 
Maybe it felt like this day would never come, or maybe your time at UBC flew by so quickly that you scarcely feel like any time has passed at all. Whichever your experience, on behalf of the UBC Department of History, I commend you on completing this stage of your academic career. 
We hope that your studies in History and your time at UBC have given you many opportunities to learn and grow as you followed your passions and intellectual curiosity. Although the pandemic profoundly changed the university experience in dramatic and unforeseen ways, you adapted to this global yet very local firsthand experience and learned to make the most of new ways of doing things. 
Your finely honed historical skills of weighing evidence and questioning existing narratives and inequalities will serve you well in life. Wherever your post-UBC journey takes you, your professors and peers wish you the best and brightest future. There is no question that the world right now is a challenging place in which to build community, and we have learned how essential human connections are to our collective well-being. Whatever your future may hold, you will always find community at UBC History.
Prof. Bonnie Effros  PhD, FRHistS (she, her, hers)
Head of History and Professor
---
The members of the History Department join together in giving all the best wishes to our 2023 graduating students. Their names are listed below, along with the titles of the honours and MA theses that were completed for these degrees.
Andre-Peirano, Nathaniel
Supervisor: Dr. Bradley Miller
Thesis: The Narcotic Addiction Foundation of British Columbia and the Emergence of a Healthcare System for Illicit Drug Use
Baines, Thea (Honours in History and International Relations)
Supervisor: Dr. Tamara Myers
Thesis: However We Dress, Wherever We Go: WAVAW and Its Role Combatting Violence Against Women in Toronto, 1970s-1980s
Chau, Wing-Kwan
Supervisor: Dr. Joy Dixon
Thesis: Female Specters, Wui Gwai, Historical Consciousness in Hong Kong Cinema: A case study of Rouge, The Reincarnation of Golden Lotus and Dumplings
Del Bigio, Joseph
Supervisor: Dr. Josh Timmermann
Thesis: Tracking the Relationship Between Intention and Outcome at Valleyview Hospital
Dubuc, Geneviève
Supervisor: Dr. Jessica Wang
Thesis: Making Guano Happen: The Lobos and Aves Affair, American Foreign Policy, and Merchant Diplomacy in the Mid-Nineteenth Century
Egger, Abigail
Supervisor: Dr. Courtney Booker
Thesis: Elgar Variations: 20th Century British Identity Construction Through The Reception History of Edward Elgar
Fairbairn, Lia
Supervisor: Dr. Joy Dixon
Thesis: A New Arena of War: Knitting Needles in Action in Great Britain, 1939-1945
Han, Ben
Supervisor: Dr. Timothy Cheek
Thesis: The Foolish Monkey Who Moved the Mountains: Socialist Realist Animated Films 1961-64
Lyren, Stig
Supervisor: Dr. Benjamin Bryce
Thesis: Swedes in British Columbia: A Community in Transition 1932 - 1945
Nolin, Sarah
Supervisor: Dr. Paige Raibmon
Thesis: Can't See the Forest for the Trees: Reconceiving Environmentalism in Clayoquot Sound, c. 1979
Song, Narisa
Supervisor: Dr. Timothy Cheek
Thesis: Mediating Remembrance: The Anti-Rightist Campaign as Memory, Archive, and History
Toney, Nick (Honours in History and International Relations)
Supervisor: Dr. Coll Thrush
Thesis: Kayak or Computer? Traditionalization, Modernization, and Reconciliation in Kalaallit Nunaat
Traa, Camryn
Supervisor: Dr. Tina Loo
Thesis: Otter Moments: Perceptions of Sea Otters and the History of Vancouver and British Columbia
Wilford, Kayla
Supervisor: Dr. Kelly McCormick
Thesis: Presentism, Politics, and How We Construct the Past: As Told through Three Histories of Onna Kabuki
Arcari, Enzo
Atienza, Shane
Averbach, Justin
Babin, Luc
Bondi, Luke
Campbell, Andrew
Carlson, Neil
Carrusca, Robert
Casol, Sarah
Cheung, Victoria
Cheung, Yuki
Chiu, Donny
Chong, Vincent
D'Souza, Hannah
Dang, Christina
Daudjee, Shahid Daniel
Diamond, Lily
Djohar, Irzadi
Doll, Tessa
Dyson, Jack
East, Jonathan
Elias, Rohit
Forrest, Elizabeth
Gallagher, Payton
Gillies, Brynn
Greenlees, Megan
Hama, Cole
Harvey, Madison
Hegde Borkar, Yash
Hu, Garmen
Huang, Xinling
Huang, Julia
Jastrzebski, Robert
Judge, Carmen
Kaboly-Zadeh, Kevin
Kanaganayagam, Sean
Landayan, Coleen
Lee, Maria
Li, Cynthia
Li, Xinjie
Mahmood, Aimen
Mak, Eleanor
Mak, Lindsay
Marino, Maya
Mathews, Madeline
Moberg, Anna
Mullen, Kolby
Murray, Matilda
Nikola, Maddie
Noteboom, Max
Olson, Annika
Pearson, Shae-Lynn
Poon, Ashley
Ross, Arthur
Sampson, Sarah
Seo, Juyoung
Sparling, Katie
Stevens, Henry
Strangway, Derek
Stubbs, Timothy
Sun, Sunny
Tarek Omar El Sharif, Karem
Tatham, Catherine
Teddy, Madeline
Trudel, Rosie
Tseung, Arthur
Van Wyk, Adrian
Vergara-Weaver, Julian
Wallace, James
Watkins Corrigan, Gabriel
Weng, Nina
Were, Marisa
Williams, David
Wilshire, Kirsten
Wong, Terrilynn
Xie, Deyang
Yamasaki, Arabella
Anstee, David
Chromy, Sebastian
Cowell, Kate
Fung, Brandon
Gilbert, Megan
Guo, Atian Suen
Konsgen, Nessim
Leung, Erin
Macaspac, Tina
Malhotra, Aryan
Miller, Dan
Park, Joon Woo
Parmar, Krishma
Rai, Jahnek
Sugrue, Nicholas
Tam, Ana
Umali, Patricia Denise
Villanueva, Al
Warren, Josh
Yang, Harry
Zhu, Elaine