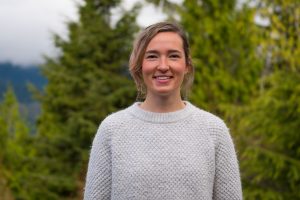 "The history courses I took at UBC taught me how to ask questions, form my argument, provide supporting evidence and communicate my findings effectively. These lessons … resulted in my ability to carve a niche in the scientific community. "
Kristen Walters is a UBC History major and Biology minor now working as a biologist for Raincoast Conservation Foundation. I talked to her about her journey from the History program to sciences. Kristen explains that while going from studying history and law to restoring the habitats of wild salmon on the Fraser River might seem like a strange transition, the two disciplines are actually more closely connected than you might think.
Why did you choose History as your focus in your degree at UBC?
 My choice to major in History at UBC was driven by both a passion for history but also a desire to pursue environmental law after my degree. While I loved the humanities, I knew that if I wanted to be an effective  environmental lawyer, I would  need to understand scientific concepts and literature. 
After my first year I began taking various science courses to complete a minor in biology. You can imagine how running from a developmental neurobiology lecture to a course on the history of the Renaissance could've given me a headache, but I found that learning both the arts and sciences encouraged  me to evolve as a scholar.  I began weaving these two fields together by taking history courses that examined the history of biology, which many argue began with Aristotle's (384-322 B.C.E) systematic study of fish species in a Grecian lagoon. By the end of my degree I was conducting  original research in both history and biology, and communicating my findings in two different rhetorics. 
I feel fortunate to have found friends and mentors in the history department who not only supported my unusual combination of academic fields, but  encouraged me to incorporate my scientific knowledge into my historical studies.
What were your most memorable professors/history courses?
One of my most memorable history courses was Europe in the Early Middle Ages taught by Dr. Courtney Booker. I found that Dr. Booker's teaching style pushed the envelope and encouraged me to think outside the box. I also really enjoyed my senior thesis course taught by Dr. Anne Gorsuch. Dr. Gorsuch encouraged my interest in the convergence of the environmental and women's rights movements during the 1960s in the U.S. With her support, I wrote my thesis on the role Rachel Carson's book 'Silent Spring' played in catalyzing not only the environmental movement but also the recognition of women's rights for female scientists. I really appreciated how Dr. Gorsuch encouraged us all to get creative in our respective research interests. 
What is your current role? How is history applied to your work?
I am currently a biologist for Raincoast Conservation Foundation, which is a science-based conservation organization focused on protecting the lands, waters and wildlife of coastal British Columbia. On the South Coast we focus on recovering wild salmon populations native to the Fraser River through habitat restoration, protection, and changes to policy. I am involved in scientific research, but I also collaborate  with First Nations, government, NGOs, and industry and community groups on governance frameworks, policy, and legislation.  
History is innately embedded in my work via the Indigenous, ecological, and colonial history of the Lower Fraser River. By collaborating with First Nations, we integrate their cultural and ecological knowledge of salmon into our conservation initiatives. This knowledge has been passed down through generations since time immemorial and brings critical historical knowledge to our work as conservation scientists. 
What other steps did you take after your UBC degree?
After completing my History degree at UBC, I pursued my Masters of Science in Biology in the Centre for Wildlife Ecology at Simon Fraser University, and I completed my M.Sc research on the migration patterns and foraging behaviour of bald eagles across salmon-bearing rivers on Vancouver Island. 
I found that the history courses I took at UBC taught me how to ask questions, form my argument, provide supporting evidence and communicate my findings effectively. These lessons were invaluable during my Masters degree, and has resulted in my ability to carve a niche in the scientific community. As a result, I can understand and communicate Indigenous and colonial history while conducting advanced statistics and writing technical scientific papers. I have the history department to thank for making me a cross-disciplinary researcher. 
Any advice for other students on developing a career after UBC?
Don't be afraid to pursue an opportunity that you think may be outside your area of expertise. Get curious, ask questions,  be creative and look outside the box.
 Although I didn't have an undergraduate degree in science, I was able to excel in my M.Sc program because I approached biology from using the interdisciplinary perspective I acquired during my time studying history.  The most important lesson I took from my time in the History department was that those skills are transferable across almost all fields. So don't hesitate to go for an opportunity that might be out of your comfort zone, because the skills you learned during your time at UBC can be immensely valuable.