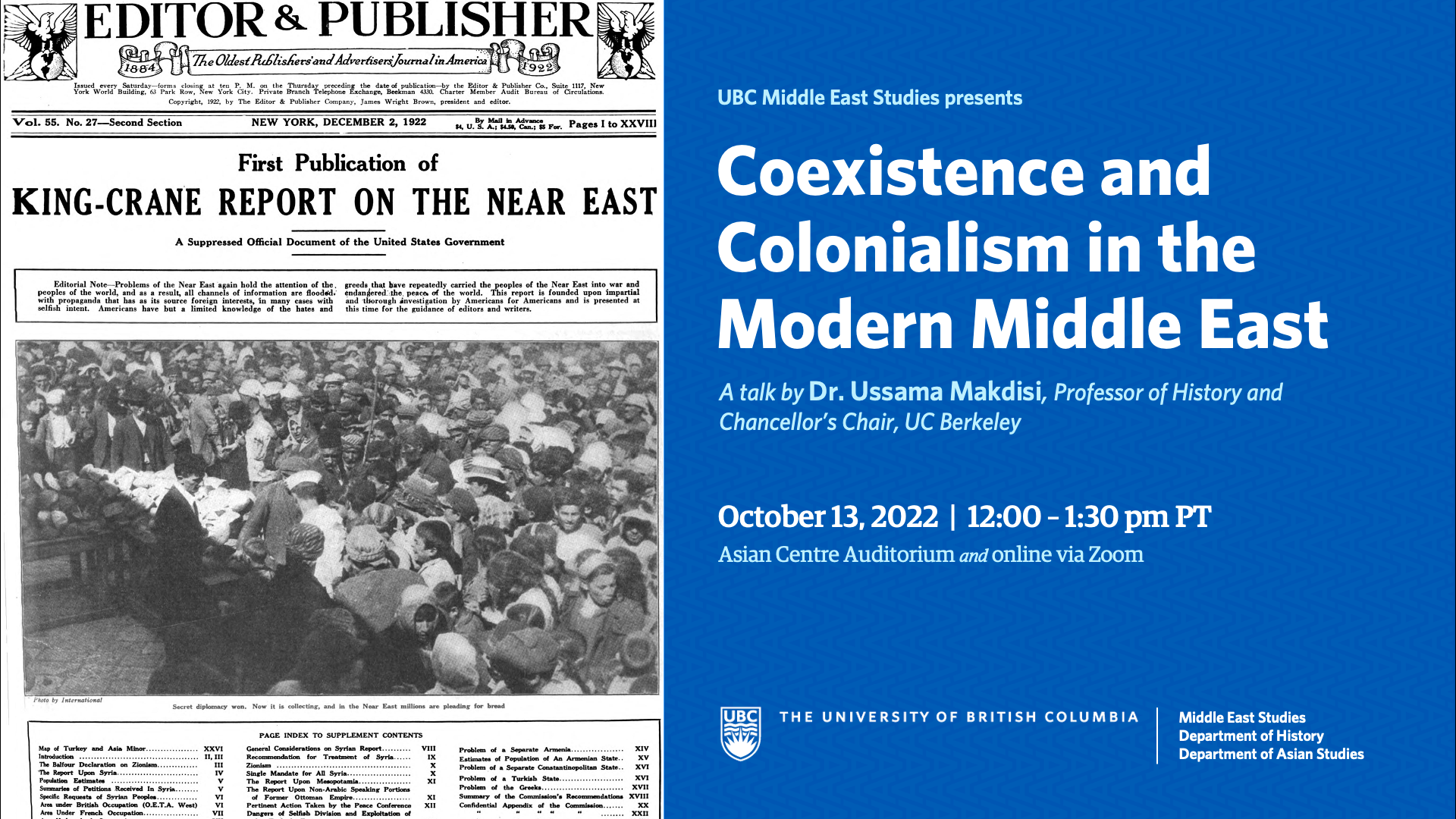 ---
We are pleased to invite you to "Coexistence and Colonialism in the Modern Middle East", a lecture presented by Dr. Ussama Makdisi, Professor of History and Chancellor's Chair at UC Berkeley. This talk can be attended both in-person and virtually via Zoom. However you choose to attend, please register using the RSVP link below.
This talk is hosted by UBC Middle East Studies and sponsored by UBC History and UBC Asian Studies.
---
Talk Abstract
The Middle East was home to a complex, but now obscured, modern culture of coexistence that was confronted with a relentless Western colonialism after WWI. In this talk, Professor Ussama Makdisi will explore this historical conjuncture that challenges conventional understandings of sectarianism in the region. In particular, he will focus on the fate of an American-led commission of inquiry known as the King-Crane Commission that was sent by the League of Nations in 1919 to investigate how peoples of the region wanted to determine their own political future. The work of this commission provides a window into a world that was consolidating a profoundly new form of coexistence and yet facing a methodical policy of European-led sectarianization and colonization in the name of self-determination and religious freedom. Professor Makdisi will draw on his recently published book Age of Co-existence: The Ecumenical Frame and the Making of the Modern Arab World and his current research on the King-Crane Commission.
---
Speaker Bio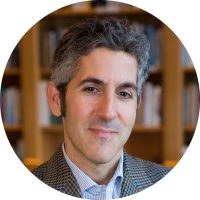 Dr. Ussama Makdisi is a Professor of History and Chancellor's Chair at the University of California, Berkeley. He was previously Professor of History and the first holder of the Arab-American Educational Foundation Chair of Arab Studies at Rice University in Houston. He has published widely on Ottoman and Arab history as well as on U.S.-Arab relations and U.S. missionary work in the Middle East. He is author of many books and journal articles. His books include The Culture of Sectarianism: Community, History, and Violence in Nineteenth-Century Ottoman Lebanon (University of California Press, 2000) which became a foundational text in the field of Middle East studies. His book Artillery of Heaven: American Missionaries and the Failed Conversion of the Middle East (Cornell University Press, 2008) was the winner of the 2008 Albert Hourani Book Award from the Middle East Studies Association, and the winner of the 2009 John Hope Franklin Prize of the American Studies Association. Professor Makdisi's most recent book Age of Coexistence: The Ecumenical Frame and the Making of the Modern Arab World was published in 2019 by the University of California Press.