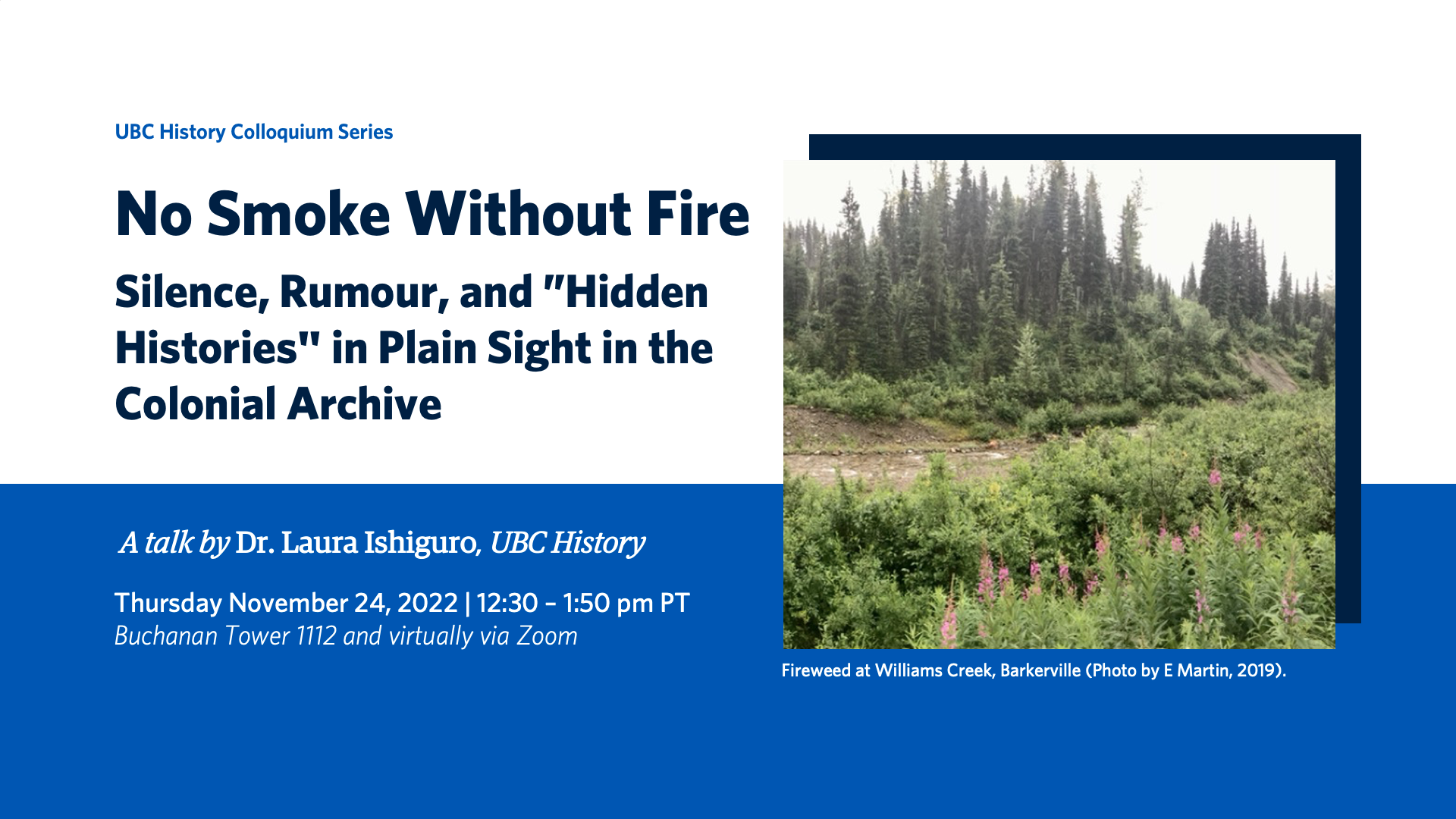 ---
The UBC Department of History Colloquium Series brings together scholars who are exploring important methodological, chronological, or geographical issues that challenge the frontiers of our discipline and contribute strongly to our collective discussions.
We are pleased to invite you to the third event of the 2022/2023 Colloquium series, featuring a talk by Dr. Laura Ishiguro, Associate Professor at UBC History.
Whether you choose to attend virtually or in-person, please register for the event. A light lunch will be available for in-person attendees who register in advance.
---
Talk Abstract
On 16 September 1868, the gold-rush town of Barkerville, British Columbia burned to the ground.
This talk begins with two sentences – a mere sixty-three words – in the archive. Working from this fragment, it conjures four new interpretations of the Barkerville fire and the colonial society that sparked it: first, as story; second, as an examination of archival rumour and silence; third, as a lens onto gendered violence in early settler colonial society; and finally, as a meditation on what lies beyond and beneath the archive.
On one level, this offers a yet-untold history of diverse women in mid-nineteenth-century British Columbia. On another level, this is a reckoning with history-telling itself. Playing at the edges of disciplinary convention, No Smoke Without Fire unsettles straightforward notions of archival silence, absence, and "hidden histories," turning instead to ask what it might take to tell possible histories that abound in plain sight in the colonial record.
---
Speaker Biography
Dr. Laura Ishiguro's research broadly focuses on Canada and the British Empire, with specialization in histories of settler colonialism, everyday life, and British Columbia in the nineteenth and twentieth centuries. Her monograph, Nothing to Write Home About: British Family Correspondence and the Settler Colonial Everyday in British Columbia, offers insights into how family letters and their writers played a critical role in laying the foundations of a powerful settler order that continues to structure the province today. Dr. Ishiguro is an affiliated faculty of the UBC
Asian Canadian Asian Migrations program
.