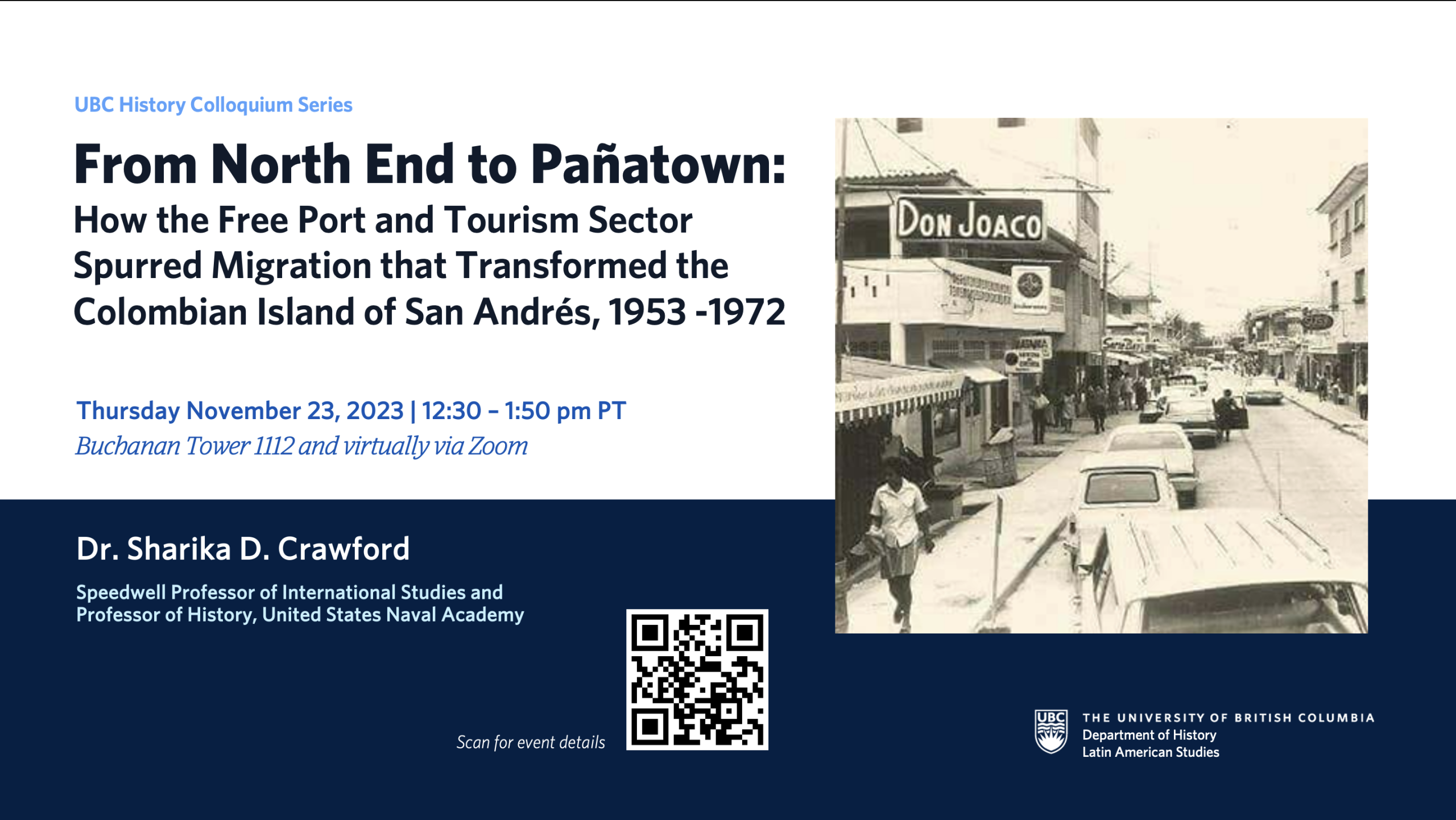 ---
The UBC Department of History Colloquium Series brings together scholars who are exploring important methodological, chronological, or geographical issues that challenge the frontiers of our discipline and contribute strongly to our collective discussions.
As part of the 2023/2024 Colloquium series, we are pleased to invite you to a talk by Dr. Sharika D. Crawford (Speedwell Professor of International Studies and Professor of History, United States Naval Academy). Dr. Crawford will present a talk entitled "From North End to Pañatown: How the Free Port and Tourism Sector Spurred Migration that Transformed the Colombian Island of San Andrés, 1953 -1972."
This event is co-sponsored by UBC Latin American Studies.
Whether you choose to attend virtually or in-person, please register for the event. A light lunch will be available for in-person attendees who register in advance.
---
Talk Abstract
For generations, the Anglophone Afro-Caribbean islanders from the Archipelago of San Andrés and Providencia had regularly migrated to and from Central America and other islands in the Caribbean Sea. By the middle of the twentieth century, waves of migrants from mostly new locales in mainland Colombia and even as far as the Middle East transformed the tiny Colombian-administered islands' economy, society, and culture. Drawn to newfound opportunities due to the opening of the free port and promotion of tourism in San Andrés, these international and national migrants served as unintentional yet willing partners to state efforts to integrate the islands administratively, economically, and socially within Colombia. Drawing on ethnographic studies from the period, Colombian newspaper articles, and oral histories available in the collections at the Banco de la República Centro Cultural in San Andrés Island, I trace how the free port strengthened administrative ties and contact between mainland Colombians and islanders, failed to integrate the majority of islanders, and facilitated the development of a black autonomous identity formation.
---
Speaker Bio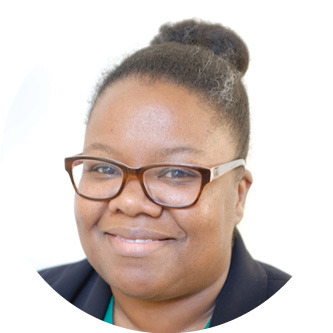 In 2023, Sharika D. Crawford was named the inaugural Speedwell Professor of International Studies, an honor that she will hold until 2028. Most of her research has focused on the interstitial places in the circum-Caribbean like the Colombian islands of San Andrés and Providencia. Her 2020 monograph The Last Turtlemen of the Caribbean: Waterscapes of Labor, Conservation, and Boundary Making published by the University of North Carolina Press received an Honorable Mention from the Elsa Goveia Prize in Caribbean History Committee of the Association of Caribbean Historians in 2021. She has published articles and essays in the New West Indian Guide, Historia Crítica, and Latin American Research Review, to name only a few. Currently, she is co-editing Understanding and Teaching Modern Latin American History. In her talk, she will present her preliminary thinking towards one aspect of her second monograph project The Islands for Islanders: Ethnic Politics, Environmental Crisis, and Sovereignty Struggles in Caribbean Colombia, 1903 – 1993.