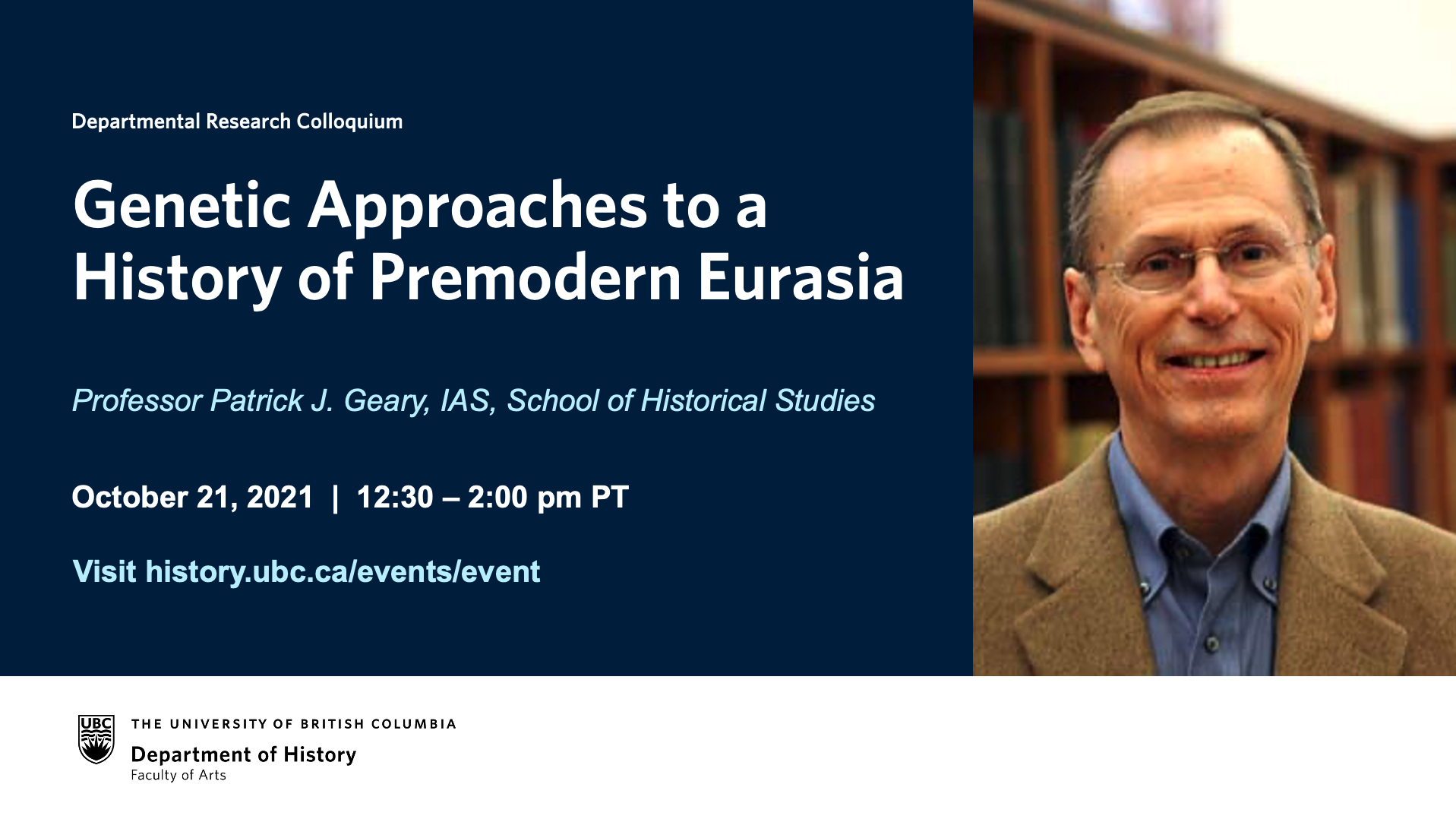 The Department of History Departmental Research Colloquium showcases research within the department, as well as that of invited speakers from beyond UBC. It brings together works-in-progress by scholars who are exploring important methodological, chronological, or geographical issues that challenge the frontiers of our discipline and contribute strongly to our collective discussions.
This term, the colloquium will focus on global history before 1500.
On Thursday, September 23 at 12:30 pm, join Professor Patrick J. Geary (Institute for Advanced Study, School of Historical Studies), who will speak on "Genetic Approaches to a History of Premodern Eurasia."
This is a virtual event.
---
Speaker Bio
Patrick Geary is Professor of Medieval History Emeritus at the Institute for Advanced Study and Distinguished Professor of History Emeritus at UCLA. He received PhD in medieval studies from Yale. He has taught at Princeton University, the University of Florida, Notre Dame, and UCLA. He is former director of the Notre Dame Medieval Institute and the UCLA Center for Medieval and Renaissance Studies.
Geary's research concentrates on Continental history between the fifth and twelfth centuries and he is author of a number of books including Furta Sacra: Thefts of Relics in the Central Middle Ages; Aristocracy in Provence: The Rhone Basin at the Dawn of the Carolingian Age; Before France and Germany: The Creation and Transformation of  the Merovingian World; Living with the Dead in the Middle Ages; Phantoms of Remembrance: Memory and Oblivion at the end of the first Millennium; The Myth of Nations: The Medieval Origins of Europe; Women at the Beginning: Origin Myths from the Amazons to the Virgin Mary; Writing History: Identity, Conflict and Memory in the Middle Ages; and Language and Power in the Early Middle Ages.
He is former President of the Medieval Academy of America and is a fellow of the Medieval Academy, corresponding fellow of the British Academy, the Austrian Academy of Sciences, the Academy of Sciences of Göttingen, the French National Society of Antiquarians, and an honorary member of the Institute for Austrian Historical Research. Currently he co-directs an international, interdisciplinary project funded by an ERC Synergy Grant that is using genomic, historical, and archaeological data to understand population structures during the so-called Migration period at the end of the Roman Empire in the West.