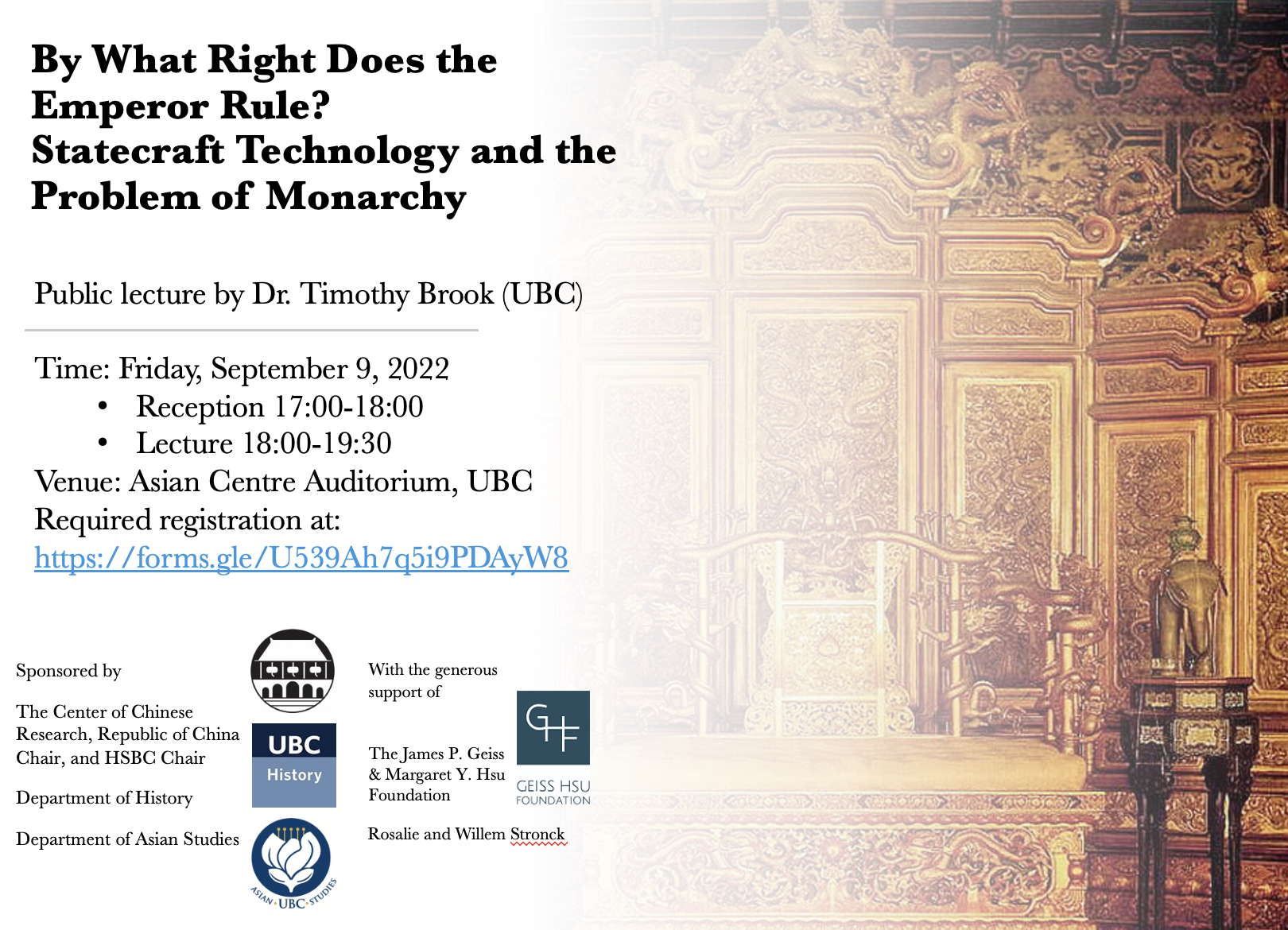 We cordially invite you to a public lecture by Dr. Timothy Brook, titled "By What Right Does the Emperor Rule? Statecraft Technology and the Problem of Monarchy," on Friday, September 9th, 18:00-19:30 in the Asian Centre Auditorium, UBC Vancouver campus, or streaming via Zoom.
Whether you choose to attend virtually or in-person, please register for the talk using the link below.
---
The event will start with an in-person public reception (17:00-18:00) in the Asian Centre, followed by the lecture from 18:00 to 19:30. The lecture may be attended either in-person or remotely via Zoom. All are welcome but advance registration is required for both in-person and remote participants. Seating is limited and priority will be given to those who register first. Please note that masks are mandatory during the lecture.
This public lecture forms a key part of a larger conference in honour of Dr. Timothy Brook's retirement from full-time teaching: "How is China Governed? From Ming Statecraft to Xi's New Era" (September 9-11, 2022). The conference critically questions how the records of Chinese statecraft, particularly under the last two dynasties of Ming and Qing, may shed light on the question of how China is governed today. Due to the pandemic and other reasons, the rest of the conference is only open to participants.
This event is sponsored by the Center of Chinese Research, Republic of China Chair, and HSBC Chair (UBC), Department of History (UBC), Department of Asian Studies (UBC), with the generous support of the James P. Geiss & Margaret Y. Hsu Foundation, the HKBC Chair (UBC), and Rosalie and Willem Stronck.