About
---
Research
I am an economic historian of the medieval Indian Ocean world, with a focus on India. My research interests revolve around the development of Islam in monsoon Asia, the role of piracy and maritime violence, and the evolution of capitalism from a non-European perspective.
Monsoon Islam
Between the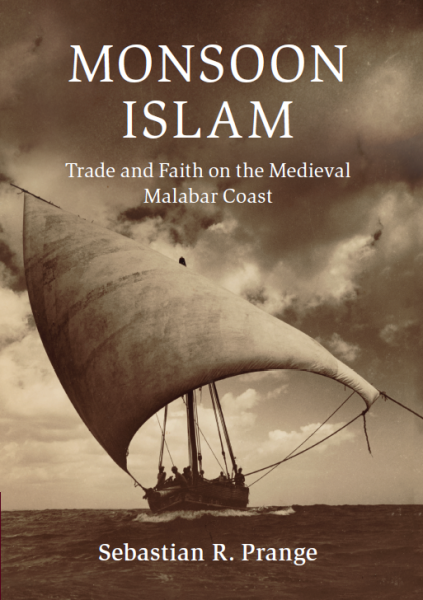 12th and 16th centuries, a distinct form of Islamic thought and practice developed among Muslim trading communities of the Indian Ocean. In my prize-winning book  Monsoon Islam: Trade & Faith on the Medieval Malabar Coast (Cambridge University Press 2018), I argue that this development was shaped by merchants not sultans, forged by commercial imperatives rather than in battle, and defined by the reality of Muslims living within non-Muslim societies. Focusing on India's Malabar Coast, the much-fabled "land of pepper", the book offers a window into the processes by which this "Monsoon Islam" developed in response to concrete economic, religious, and political challenges. Most importantly, because communities of Muslim merchants across the Indian Ocean were part of shared commercial, scholarly, and political networks, developments on the Malabar Coast illustrate a broader, trans-oceanic history of the evolution of Islam across monsoon Asia.
Monsoon Islam has been awarded the American Historical Association's 2019 John F. Richards Prize in South Asian History as well as the American Historical Association's 2019 Pacific Coast Branch Book Award.
Supported by a SSHRC Insight Grant, I am currently expanding this project beyond the scope of the book to explore the connected histories of Monsoon Islam in East Africa and Southeast Asia.
Pirate Politics
My second project studies the history of Indian Ocean piracy from an Asian perspective. The project is premised on the notion that in Asia as in Europe, the early-modern period was marked by a shift from fluid to more rigid parameters of social and political identity, from semi-private to public forms of warfare, and from personal to increasingly codified legal regimes. Recognizing that maritime violence was a crucial vector in all of these developments recasts the much-maligned pirate as a key player in the making of the early-modern world.
This research is supported by a SSHRC Insight Development Grant and its initial findings have been published in the American Historical Review and Journal of Early Modern History.
Outlaw Economics
My third, and most experimental, project has evolved through my teaching on the global history of capitalism to high school students, university undergraduates, and lifelong learners. The complexities of globalization, modern finance, government intervention, and workplace regulations that mediate our present-day encounter with capitalism make it nearly impossible to grasp it as a system. To get to the heart of capitalism, I seek it out "in the wild", in the liminal spaces where it exists unencumbered and unrestrained. If we are curious to know what capitalism is really like, then we need to look at the truest, most authentic capitalists there are: outlaws.
Outlaw Economics: A Rogue History of Capitalism explores the history of capitalism in four chapters. Each chapter corresponds to a distinct phase in its historical development; the key themes of each phase are illustrated through a particular outlaw enterprise. These outlaw groups offer a microcosm of the imperatives, opportunities, practices, and institutions that defined capitalism during that particular phase of its development. History often reveals itself at the margins—by operating on the fringes of the "regular economy", these outlaws cast a fresh light on the system by which we all live our lives.
---
Publications
Book:
Monsoon Islam: Trade and Faith on the Medieval Malabar Coast (Cambridge University Press, 2018); awarded the AHA John F. Richards Prize in South Asian History as well as the AHA Pacific Coast Branch Book Award
Articles/Chapters:
"The Mosque in a Land of Temples: Reading Malabar's Muslim Monuments", in Malabar in the Indian Ocean: Cosmopolitanism in a Maritime Historical Region, eds. M. Kooria and M.N. Pearson (Oxford University Press, 2018)
"Asian Piracy", in Oxford Research Encyclopedia of Asian History (Oxford University Press, 2017)
"The Pagan King Replies: An Indian Perspective on the Portuguese Arrival in India", Itinerario 41:1 (2017)
with D. Elliott, "Beyond Piracy: Maritime Violence and Colonial Encounters in Indian History", in Beyond the Line: Cultural Narratives of the Southern Oceans, ed. M. Mann and I. Phaf-Rheinberger (Neofelis, 2014)
"The Contested Sea: Regimes of Maritime Violence in the Pre-Modern Indian Ocean", Journal of Early Modern History 17:1 (2013)
"A Trade of No Dishonor: Piracy, Commerce, and Community in the Western Indian Ocean, Twelfth to Sixteenth Century" American Historical Review 116:5 (2011); awarded the Biennial Best Article Prize by the Forum on European Expansion and Global Interaction
"Measuring by the bushel: Reweighing the Indian Ocean Pepper Trade", Historical Research 84:224 (2011); awarded the Pollard Prize by the Institute of Historical Research
"Outlaw Economics: Doing Business on the Fringes of the State. A Review Essay", Comparative Studies in Society and History 53:2 (2011)
"Like Banners on the Sea: Muslim Trade Networks and Islamization in Malabar and maritime Southeast Asia", in Islamic Connections: Muslim Societies in South and Southeast Asia, eds. M. Feener and T. Sevea (Institute of Southeast Asian Studies, 2009)
"Scholars and the Sea: A Historiography of the Indian Ocean", History Compass 6 (2008); awarded the History Compass Graduate Essay Prize, World History category
"Trust in God – but tie your camel first. The economic organization of the trans-Saharan slave trade between the fourteenth and nineteenth centuries", Journal of Global History 1:2 (2006)
---